Mississippi Hometown Retirement Program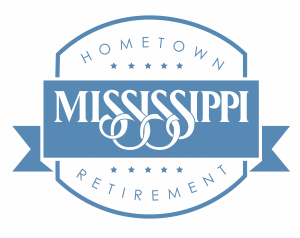 Mississippi is a great place to visit and an even better place to live, thanks to our vibrant communities and affordability. Clinton is proud to be one of Mississippi's 12 certified retirement cities.
To be a Certified Retirement City, each town must pass a comprehensive three-month screening process conducted by Hometown Mississippi Living, the state's official retiree attraction program. Clinton was evaluated on a number of factors, including the affordable cost of living, low taxes, low crime rate, access to quality medical care, recreation, educational and cultural opportunities, and most importantly, a warm and welcoming community.
To find out more about the Hometown Mississippi Retirement cities, view the official Brochure or visit the dedicated website through the Mississippi Development Authority at www.mississippi.org/services/community/retirement.
Rich history, extraordinary culture, outstanding cuisine
Excellent medical care
Average annual temperature 75 degrees
Affordable housing
Low property taxes
No state income tax on retirement income
Low cost of living
Continuing education at local colleges/universities
You'll find what you are looking for in Clinton, Mississippi – a place where the people are friendly and live in peaceful neighborhoods. Where there are community picnics, fireworks on the 4th of July, and a welcome cup of coffee at the Clinton Visitor Center. Where the streets are safe for sunset strolls and a sense of well-being prevails. You'll find all of this in Clinton, Mississippi. Selected as one of the state's "Most Livable Cities," Clinton offers all the hometown amenities that you desire and easy access to much, much more.
Located in the Jackson metro area, Clinton is one of the fastest-growing cities in Mississippi. The city is home to the oldest four-year college in the state, Mississippi College, offering many academic, athletic, and cultural opportunities. Clinton is known for its thriving downtown area with treelined, brick streets, its award-winning parks, and convenient walking trails. Situated just a short drive away from the cultural offerings of the capital city and the historical aspects of the Mississippi River cities, Clinton is an ideal place to enjoy your retirement. As we like to say, "YOU belong here!"
A wide variety of housing is available in Clinton. There are older homes along tree-lined streets or newer homes in one of the many upscale developments if you prefer. There are also ample garden and patio homes that are ideal for retirement living. The average cost for a three-bedroom, two-bath home ranges in price from $145,000 to $215,000 depending on newness and lot size.
Clinton enjoys one of the lowest crime rates and one of the best fire ratings of any city in the state - factors all residents appreciate. The Police and Fire Departments are manned by highly-trained and skilled professionals and boast of some of the best facilities in the state.
Clinton is home to a wide range of medical professionals and facilities including primary care clinics, the Baptist Healthplex, and Brookdale, an assisted living community. A modern, state-of-the-art hospital is only minutes away with a medical staff covering all major specialties. There are also other hospitals located in the metropolitan area.
Residents enjoy a mild climate with four distinct seasons, allowing for year-round outdoor activities. In addition, gardeners are able to grow many varieties of flowering plants throughout the year.
You will find recreational activities plentiful within close proximity. There's golf, tennis, fishing, boating, and hunting, plus walking and bike trails, and picnic areas. Other venues for fitness and exercise activities include the Clinton Family YMCA, the Baptist Healthplex, and a wide variety of municipal parks. In addition, the Clinton Community Nature Center and Kids' Towne Playground are unique to Clinton. Mississippi College offers spectator sports, and professional baseball is available minutes away in the Jackson metro area.